boutique

Surf and Yoga retreat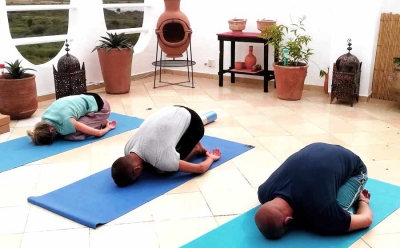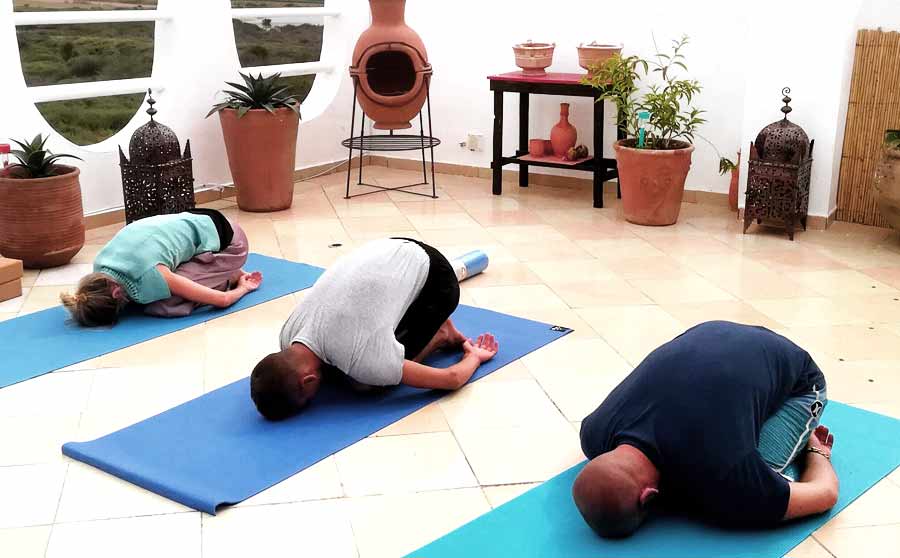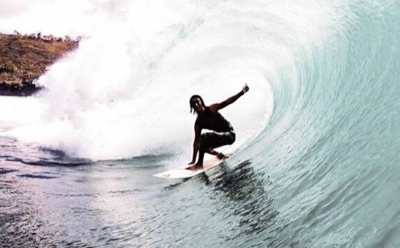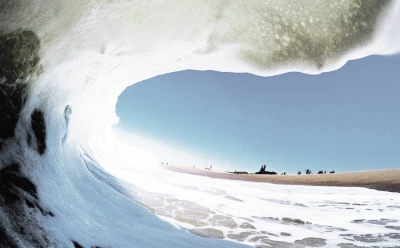 …with SUP thrown in for good measure. We specialize in smaller groups to ensure we maintain a high level of customer service and a relaxed, easy vibe. Our philosophy is simple – this should be your home away from home and a chance to de-stress and rejuvenate. At Surf and Soul Morocco we pride ourselves on great value, a warm welcome and a stunning natural location.
More a lifestyle than just a surfing holiday
Combining the beauty of Morocco with the "take-it-easy" attitude of the surf community, Surf and Soul Morocco offers you the ultimate taste of true freedom.
Sea you soon!
Opened in September 2018, Surf and Soul Morocco is the culmination of a dream between a French/Moroccan Big Wave surfer and an Australian ocean lover and Trend Forecaster, both of whom met whilst living in Germany and Austria respectively (yes stranger things have happened!). A belief in the ethos that true spirituality comes from within, they were inspired to set up a surf and yoga camp in one of the most beautiful, natural areas in Morocco.
More a lifestyle than just a surfing holiday, their ultimate aim is to help others breathe easy, and remember what life should be about.
At Surf and Soul Morocco we have a deeply held belief in re-engagement – mind, body and soul – which is why we offer packages that connect all three.
PERFECT PACKAGES TO SUIT
Our packages are simple, yet perfectly suited to take the stress out of your stay. From weekly surf camps, individual surf lessons, surf workout training, to yoga retreats and SUP tours (all with or without accommodation), our aim is to work with you to create the ultimate experience.
From making your booking to organizing your airport transfer, scheduling your surf and/or yoga lessons, to maintaining your accommodation, we will make sure your stay is as comfortable and hassle-free as possible. To meet your needs and enrich your experience we speak English, French, German, Spanish and Arabic.
WHAT WE OFFER
Choose the Surf, SUP or Yoga course to suit your level of interest and skill (Beginner, Intermediate and Advanced) and enjoy the expertise and knowledge of our instructors. Boards, wetsuits and yoga equipment are all supplied so you can pack light! Simple Stay accommodation without the package inclusion is also available – please enquire to check availability.
*Please note: Airport transfers are not included in the packages and must be booked and paid separately.
Sharing is Caring

Share Accommodation
Includes: Share rooms, separate living area/chill room, shared bathroom, terrace access. Organic, nutritious breakfast and a daily cleaning service.
35€ 
per person, per night share room

40€ 
per person, per night double room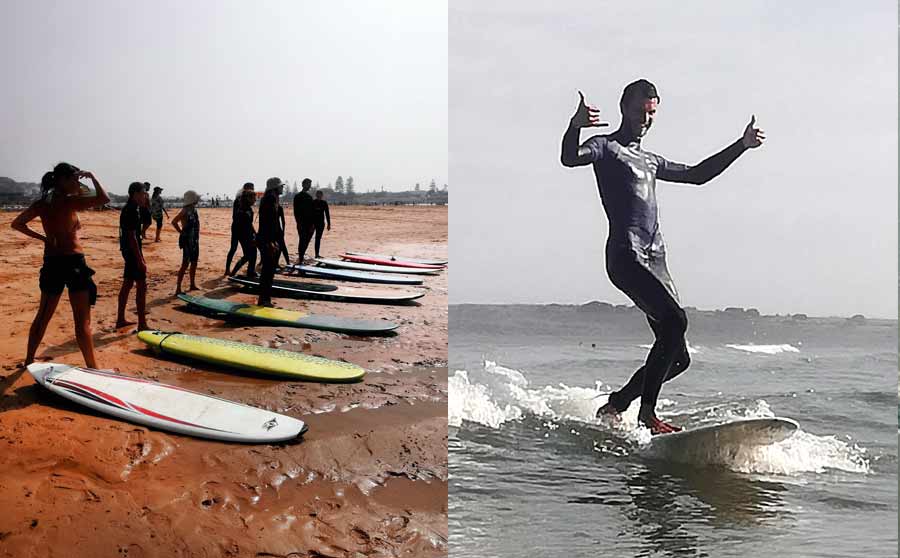 Surf with Soul

The Surf School
Morocco is a dream surf destination for beginners through to advanced surfers, and in Oualidia you will find the right wave for your skill base. Depending on your level, and the swells, our instructors will be happy to instruct and guide you, enabling you to enjoy the best surf conditions available every day.
Includes
Share Accommodation

Healthy, nutritious breakfast, lunch & dinner – daily

Surf equipment

2 hours professional surf lessons – 6 days

Transport to the surf breaks (conditions permitting)

Group music and BBQ evening

Visit to the Village Souk

Cleaning Service
535€ 
per person (Price for shared room)
7 nights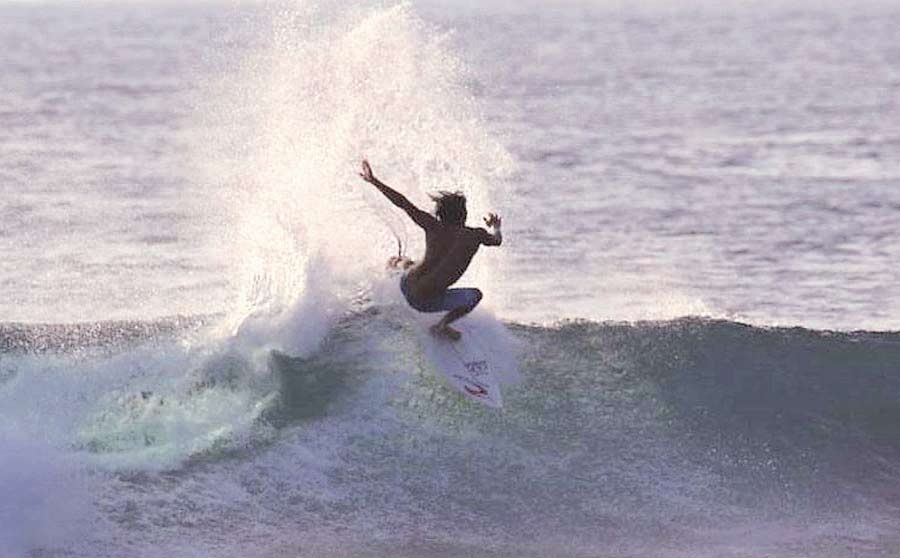 Surf your Style  



The Independent Surfer
Our fabulous free-style surf packages are a big draw card if you want to surf independently but get some insider tips. Armed with in-depth knowledge and experience of some of the most awesome point breaks to be found in Morocco, your guide will let you in on some little-known surf secrets, taking you to some of the most awesome spots the coastline has to offer.
Includes
Share Accommodation

Healthy, nutritious breakfast, lunch & dinner daily

Surf equipment

Transport to the surf breaks (conditions permitting)

Group music and BBQ evening

Visit to the Village Souk

Cleaning Service
460€
per person (price is for a shared room)
7 nights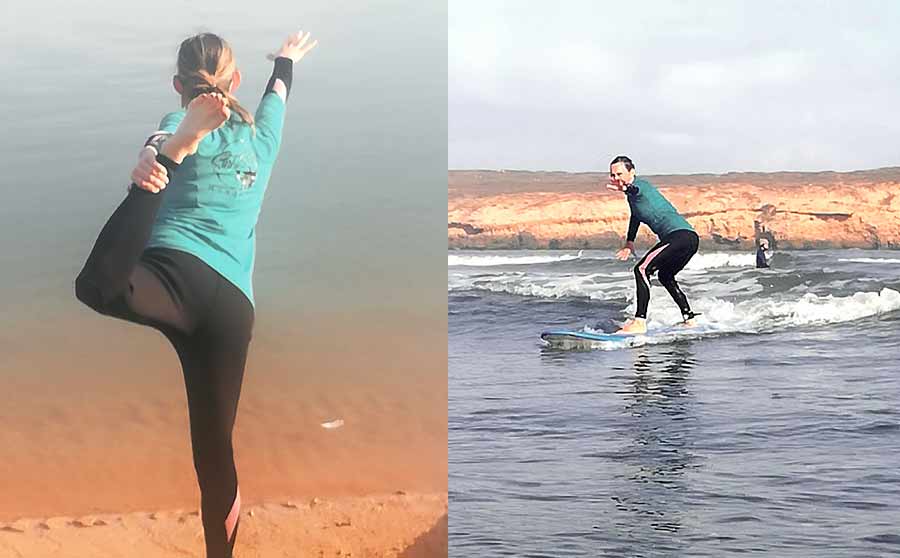 Heart and Soul

Surf & Yoga
Take the time to connect with all that nature has to offer and, more importantly, reconnect with yourself with a daily yoga session. Enjoy the gentle movements of your yoga practice on the sandbanks of the lagoon or on the beautiful open-air terrace – Pura Atma.
After your yoga practice our qualified surf instructors will take you to the waves and provide detailed coaching.
Includes        
Share Accommodation

Healthy, nutritious breakfast, lunch & dinner – daily

Surf and yoga equipment

1.5 hour yoga class – 6 days

2 hours professional surf lessons – 6 days

Transport to the surf breaks (conditions permitting)

Group music and BBQ evening

Visit to the Village Souk

Cleaning Service
645€ 
per person (price for shared room)
7 nights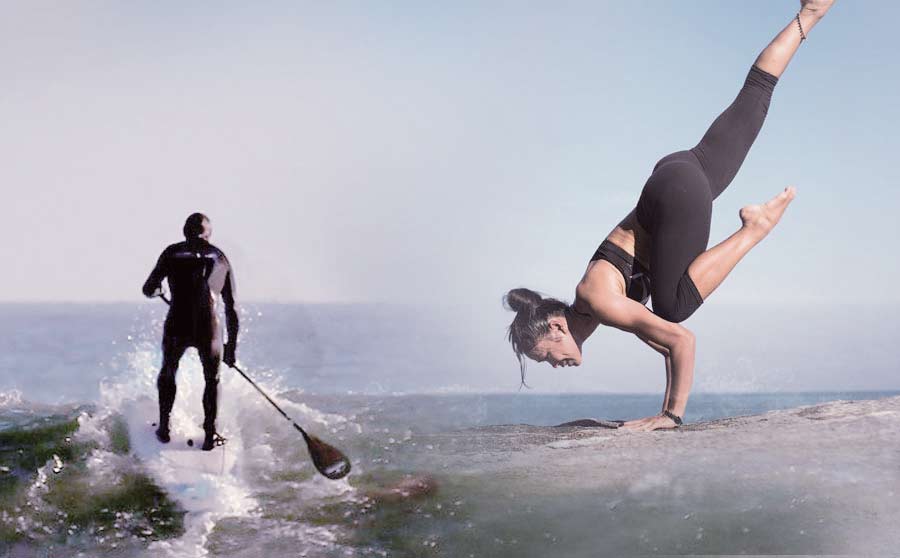 SUP (Stand Up Paddle) and Yoga is a marriage made in heaven. These twin disciplines have a natural synergy that allows for the mind, body and spirit connection to renew, cleanse and integrate in natural harmony. Benefit from this holistic approach to life in stunning surrounds with our dedicated instructors.

Yoga on the Paddleboard is available depending on group interest and availability.
Price 
on request.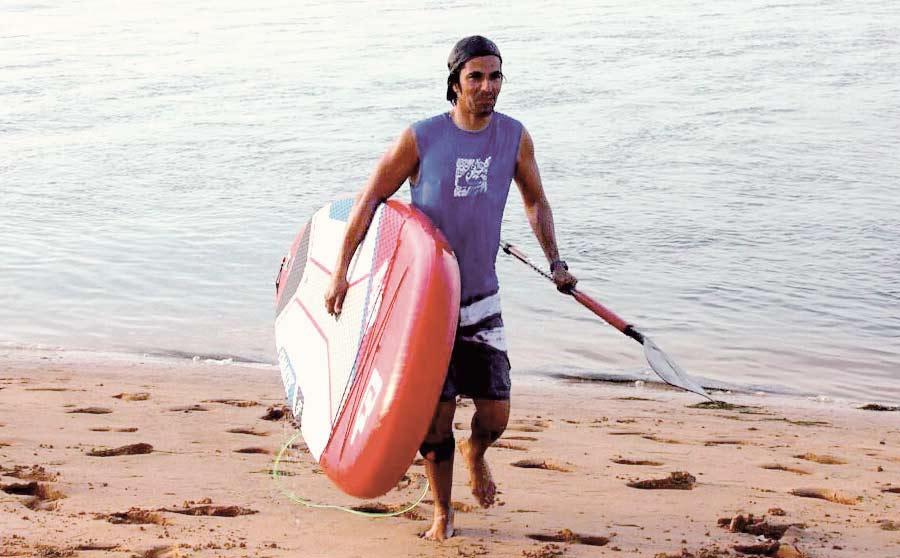 Natural Rhythm

Stand Up Paddleboard (SUP)
Accessible to almost everyone, SUP is an excellent way to stay in shape and to discover a new water sport. It can be performed in both still water and the open ocean. Our team can accompany and instruct you in the practice of this popular activity, or you can simply hire a SUP board and do your own thing.
Just a tip – twilight paddling on the lagoon is not to be missed!

Prices:

Independent SUP board hire:
35€ 
for 2 hours
(without instruction/guide).

Board hire, instruction and guide:
Price 
on request and dependent on group interest.
*All package prices are based on a triple share room. Single or double rooms are available on request at an additional cost.
GET AWAY

SUP RELAX & DISCOVER
Discover the Oualidia lagoon's crystal calm waters with a SUP tour. During the paddle you will pull up at a beach, before returning to the harbor to finish this fabulous journey.
Prices
45€ 
per person – half day
70€
per person – full day
(Min. 2 people)

Includes
Initiation/lesson with certified instructor

Board & paddle

Wetsuit

Personal photos
POWER UP

SUP POWER CHALLENGE
If power and longevity is your thing, then why not take our trio challenge. Start with SUP on the lagoon, followed by a run around the cliffs and then an ocean swim.
*Minimum age: 15 years
Duration: 2 Hours
Price
45€
per person
(Min. 2 people)

Includes
Initiation with certified instructor

Board & paddle

Wetsuit

Personal photos
SOMETHING FISHY

FISHING ON SUP
A unique fishing experience offered to people who are at an advanced level in SUP. This activity takes place in the late afternoon.
* Minimum age: 15 years
Duration: 3 Hours
Price
80€ 
per person
(Max. 2 people)

Includes
Technique instruction

Board & paddle

Fishing equipment

Wetsuit

Personal photos
A good mood is included

in all activities.
A Typical Day
OK, well there really is no typical day at Surf and Soul Morocco –
we believe in going with the flow and adapting to the conditions – but if we had to…
7.30am Sunrise yoga
10am Breakfast
11.30am Head out to waves (condition dependent)
12.00 Surf lesson
13.30 Free time for midday meal
15.00 Trip around the lagoon
16.30 Chill out time on the terrace
18.00 Sunset yoga
Home is where the Heart is
We put our heart and soul into creating an ambient atmosphere to be enjoyed by all. Surf and Soul Morocco is a shared apartment, designed in a traditional fashion with a comfortable, modern feel, located just a few metres away from the beach.
Our laid-back approach to life is reflected in the stunning simplicity of our accommodation. Natural, clean lines in the shared rooms allow the mind to rest and relax, while the chillout areas are designed with your comfort in mind.
Pura Atma, the spacious open-air terrace, is a haven of calm overlooking a natural bird sanctuary. A beautiful chill-out area helps you escape the midday heat, with shared tables and lamplit areas perfect to take in the evening sunsets.
Share Apartment
Single/Double Rooms
Share Rooms
Share Kitchen
Pura Atma – large rooftop terrace
Free Wi-Fi
Laundry Service (on request)
We also have on offer a Moroccan-style Villa and Studio apartment, complete with share and double rooms and a small, lush garden area to cater to different group bookings and activities.
Breakfast is served!
… in an easy-going, group atmosphere with organic produce and local fare.
Our food philosophy is like everything else we believe in – fresh is best, slow is better and local is king. Our packages include a healthy and hearty organic breakfast with locally sourced produce to help you power up for your day.
For your own culinary enjoyment, we can help to organize a visit to local restaurants where you may choose from a range of fresh seafood dishes, great salads and traditional Moroccan meals. Prepare your own meals in the communal kitchen and enjoy them around share tables on the Pura Atma terrace, or take a lagoon boat ride to a natural oyster farm to eat fresh oysters straight from the sea.
Situated on the beautiful Atlantic coast of Morocco, the village of Oualidia is a hidden gem just waiting to be discovered. With surf beaches surrounding it and a large tidal lagoon at its heart, there are few places in the world that can match it for its serenity, natural beauty and sheer magic.
At one end, natural oyster farms beckon with the promise of fresh ocean produce, while wild wetlands play host to a range of local bird species. Watch the flamingos bask in the beauty of a North African sunset or take a boat trip around the lagoon to explore the dark depths of abandoned pirate caves. Trek the beach by horse, donkey or quadbike, and visit the Saturday village market just a 15 minute walk from our home. Partake of a traditional tagine cooked over an open fire, visit the hammam or simply chill out on our large rooftop terrace. If you want to go further afield, embark on a journey to visit the souk in Safi, where you can purchase pottery, spices and leather goods.
Make Memories & Friends
A perfect holiday is made up of memories and moments with great people. Enjoy the magic that only Morocco can offer with a range of activities and day trips to ensure you make the most of your time.
More for you:
Camel Ride (beach or mountain)
Horse or Donkey ride (beach or mountain)
Quads or Buggies (beach or mountain)
Skateboard rental
Motorboat trip in the Lagoon
Visit to a Village Hammam
Day trip to Safi
Price

 on request.
Natural Concerns
At Surf and Soul Morocco, we are making a concerted effort to reduce plastic waste with a focus on natural, sustainable materials in our surf camp to highlight the severity of the problem.
We provide you with clean drinking water, but as we are trying to reduce plastic and rubbish waste it would be appreciated if you could bring your own water bottle to re-fill throughout the day. Believe us, every plastic bottle less is a big step forward. 
Voluntourism… in our own small way
Every week we have a cleanup Oualidia initiative, where our guests can also volunteer to help. For one hour a week, armed with bags and gloves, we visit either the beach, the neighbourhood, the bird sanctuary or the sand dunes to collect dumped rubbish in order to free the natural habitat from the poisonous, choking effects of man-made waste.
Our aim is to educate and eradicate rubbish and plastic from the village and surrounds, to keep our beaches clean and to maintain the natural charm of the area.
We know it is not how most people wish to spend their hard-earned holiday, and that is why it is on a voluntary basis, but we also believe that most people want to make a difference – and we strongly believe that with a bit of help and a little time and effort we can slowly make a change.
Part of the family
We believe in living local and giving back, that is why, where possible, we source organic food direct from the village market and employ local craftspeople to maintain and build for us.
We aim to look after our staff and pay them a fair wage for the work that they do, so they can feed their families and have a decent quality of life. Our prices and your treatment of them should reflect this.
Get In Touch!
Have questions? We'll be happy to answer!